Paragon Ventures I Invests in Singapore-based lithium-ion battery recycling startup; NEU Battery Materials, to begin industrialisation of Clean and Sustainable Lithium Battery Recycling.
SINGAPORE, 4 July 2023 – NEU Battery Materials, a Singapore-based lithium-ion battery recycling startup, has raised US$3.7 million in a seed funding round, it said on Monday (Jul 3).
Singapore government-backed deep-tech investor SGInnovate led the round, which was also joined by ComfortDelGro Ventures, Shift4Good, Paragon Ventures I and other angel investors.
The startup uses an electrochemical redox targeting technology, which requires just electricity, to recycle battery materials. The process also uses regenerative chemicals to avoid toxic waste and harsh acids. The patented technique generates battery-grade lithium, which can then be supplied back to battery manufacturers.
NEU Battery Materials said it will use the funds to speed up the deployment of its automated recycling line, reducing the operational manpower needed.
It will also form new partnerships with electric vehicle (EV) original equipment manufacturers and battery manufacturers to advance the adoption of its technology in the transport and mobility sectors.
To boost capabilities, NEU Battery Materials has begun research into recycling other lithium battery chemistries, such as the cobalt-based batteries used in smart devices and EVs.
The startup, co-founded by Bryan Oh and Kenneth Palmer, recently broke ground on a 150-square-metre recycling plant in Singapore, which can process around 150 tonnes of lithium batteries a year.
It is also collaborating with Saft Batteries on lithium-ion phosphate battery recycling laboratory trials. Saft Batteries is a wholly-owned subsidiary of French multinational energy company TotalEnergies.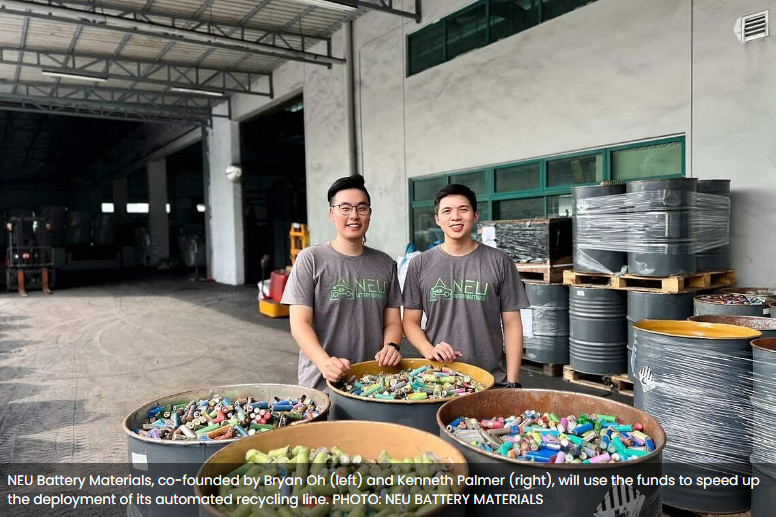 For Enquiries:
Paragon Capital Management Singapore
Attn: Tan Xin Hui (General Partner, Paragon Ventures I)
xinhui.tan@paragoncapital.sg