Paragon Ventures I invests in Singapore-based biotech start-up; Insectta, to begin industrialisation of patented insect biomaterial extraction technology
SINGAPORE, 26 April 2023 – Paragon Capital Management Singapore is pleased to announce its investment into Insectta Pte Ltd through its fund, Paragon Ventures I. The funds will be used to set up a pilot facility, allowing Insectta to increase its production capacity by 30 times. This new investment marks a significant milestone for the company, as it allows them to further develop and scale their insect biomaterial extraction technology, which has already attracted the attention of industry experts and customers alike. With this new capital, Insectta is poised for continued growth and expansion, solidifying its position as a key player in the insect industry.
Insectta's proprietary and patented technology
In a market brimming with insect protein, oil and fertilizer start-ups, Insectta stands out as a game-changer. Rather than following the crowd, they've taken a fresh approach to the insect industry. Insectta's patented extraction process allows them to derive highly sought-after functional products, including chitosan and melanin, from the black soldier fly ("BSF"), who have been spotlighted as one of the most economically important insect species. These biomaterials are in demand by industries such as pharmaceuticals, personal wellness, F&B, organic electronics and more, and Insectta has set its sights on expanding the applications of insects beyond just agriculture.
Alongside their patented extraction technique, the Insectta Team has also achieved another global first – the ability to extract water soluble melanin in unprecedented quantities. End-users can expect a cleaner, purer, chitosan and a highly functional melanin at an extremely competitive price – all derived from a circular process that's less energy-intensive and more sustainable than current extraction methodologies.
Insectta's innovative stance on adding value to the insect industry aligns with Paragon Ventures I's vision to invest in inventors and visionaries with strong market potential for their innovative products and solutions, and who have spent significant time designing, testing and developing new-to-market opportunities.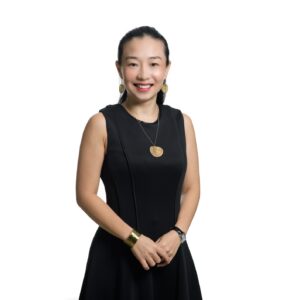 General Partner for the fund, Tan Xin Hui comments "Insectta's technology clearly identifies an exciting opportunity in the growing insect industry. We align ourselves with Insectta's goal of bringing Singapore to the world stage as pioneers in the insect biomaterial industry, and are excited to progress with them through this impactful investment."
Setup of Pilot Production Facility
Insectta's focus for this raise is to scale its technology by completing its first BSF chitosan and melanin extraction plant in Singapore.  Chua Kai-Ning (Co-Founder and Chief Marketing Officer) comments "Our pilot plant not only serves as a platform to industrialize our patented biomaterial technology but also helps us achieve our goals of increasing production capacity to meet current and future demands. We plan to use our pilot plant to foster strategic connections with industry players and clients and are excited to be making larger quantities of BSF chitosan and melanin to tailor to the high interest that has been coming our way. With an eye towards expanding our reach for commercial opportunities, we are leveraging the pilot plant to its full potential."
Phua Junwei (Co-Founder and Chief Technology Officer) says "We're very excited to have Paragon Ventures I onboard. Their diverse network and innovation-focused growth mindset will serve as a key resource to help us accelerate our progress. We look forward to having the pilot serve as the stepping stone for manufacturing and selling our biomaterials on a large scale, paving the way for a future where our healthcare and electronics are powered by insects."
For Enquiries:
Paragon Capital Management Singapore
Attn: Tan Xin Hui (General Partner, Paragon Ventures I)
xinhui.tan@paragoncapital.sg
Insectta:
Attn: Chua Kai-Ning (Co-Founder, Chief Marketing Officer)
kai@insectta.com